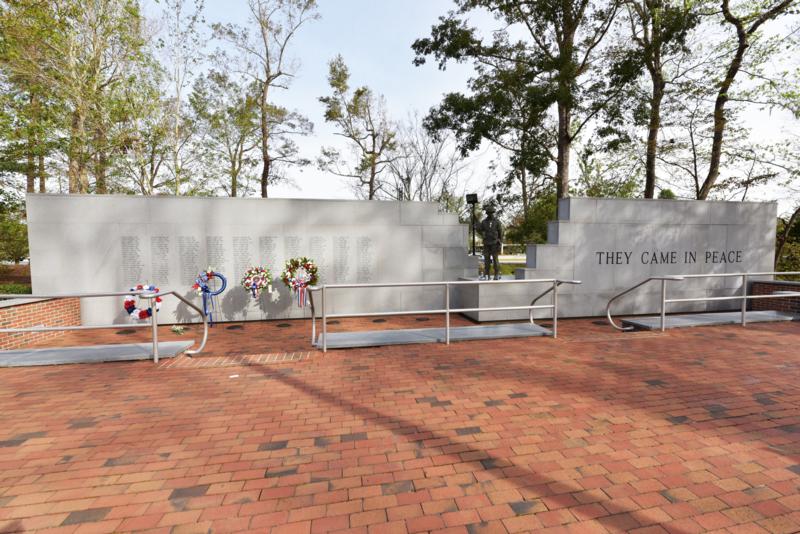 Beirut Veterans of America has two related BVA events to be held on October 22, 2023.
Reception/Muster: "40 Years Later: Why They Come"
At 1:00 p.m. a reception will be held at the field behind the Beirut Memorial, with the theme, "40 Years Later: Why They Come." The BVA states that the event is intended to bring families, veterans, and the Jacksonville community together during the 40th weekend. Attendees can also help support Marines of 1st Battalion, 8th Marines, The Beirut Battalion, who will be passing by as they run a 273 plus mile relay in honor of those servicemen killed in the 1982-84 operation.
The program and agenda are centered around veterans from all the MAUs, Battalions and families sharing brief stories of who they are and how they reflect on their part in the Beirut operation now, 40 years later. The purpose is to pass the torch to an upcoming generation and to give space to share stories not just about the day of the bombing, but about the mission of those who served and died in Beirut.
The event will include Marines from the present-day 1st Battalion, 8th Marines (1/8) who would like to attend, as well as anyone interested or impacted by our shared story. There will be food and drinks available.
40th Remembrance Banquet: The First Duty Is To Remember
Doors open at 5:30 p.m. at the Jacksonville American Legion Hall for the 40th Remembrance Banquet. Registration for 650 tickets ($40/ticket) will be on a first-come, first-served basis. A cash bar (beer and wine only) will open at 6pm and the dinner begins at 7 p.m. Attendees can choose one of four entrees (chicken, beef, fish, or vegetarian plate) plus a variety of sides and drinks.
Guest speaker for the Banquet is retired Navy SEAL Jack Carr, New York Times best-selling author of the "James Reese" fiction thriller-adventure series. Mr. Carr, with colleague James Scott, is preparing a non-fiction series about terrorism in the modern world. The first in the series will be about the Beirut bombing because it was the seminal event that was a harbinger of 9-11 and the ensuing Global War on Terror.