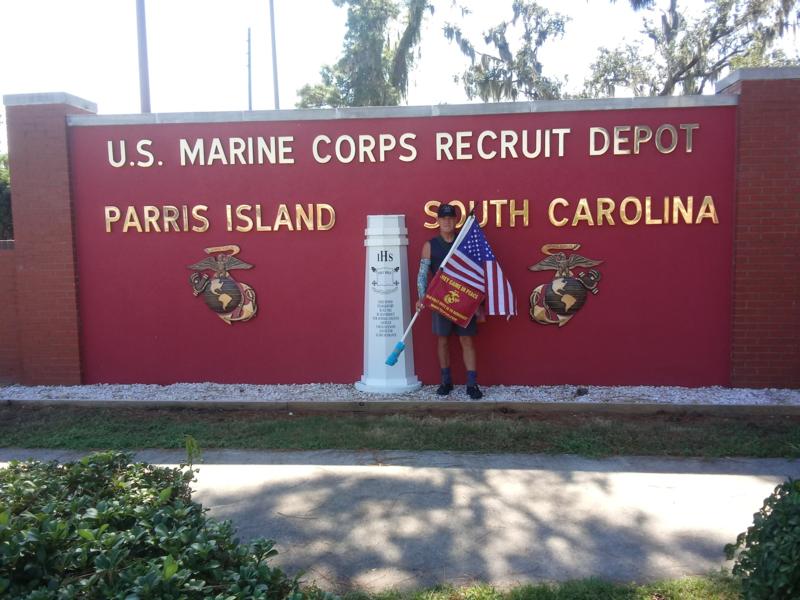 Alicia: When were you in Beirut and what was your role?

Doc: I was assigned as a Hospital Corpsman HM3 to the MSSG24 MED/DN DET in support of the Marine Amphibious Unit MAU and the BLT 1/8 from May to Nov 1983. While assigned to this deployment late, I had the fortunate opportunity to befriend several Marines while deployed and on liberty.

Alicia: Why did you do the walk and where did you walk from and to?

Doc: Over the course of the past several years while attending Memorial and Veterans Day observances I became aware that most people fail to remember the events of Beirut unless they were specifically affected by either being there or by sacrificing some that was.
While attempting to make a difference this year, I developed a plan to walk from Jacksonville NC to Jacksonville Fl in 28 days carrying a 30-pound pack and walking 24.1 miles a day honoring the 241 families that lost a father, son, or brother on Oct 23, 1983. However, after walking my first day with 106 heat factor I changed my plan to walk a straight line HWY 17. Had it not been for the help of some amazing people, Craig Renshaw (former BVA President) who I did not know, followed me for two and a half days carrying my pack and feeding me Gatorade and water every 15 minutes. Or retired 1stSgt Darryl and Anita Woodard, and his American Legion Vice Commander both arrived with fresh baked cinnamon rolls at 4am to follow me all the way on day six. This also when I realized that if I did not have permanent help I would probably not make it on time. So I called my wife Cheryl) and had her leave her job to help support me and my cause.
Ultimately we covered 538 miles in 29 days, successfully completing my 24.1 a day 13 times and the equivalent of 2 full marathons while completing the 27.3 for all names on the wall. Raising over $7500.00 in funds for the BVA scholarship fund created this year with an initial donation of 10K.
OUR walk culminated with family members joining us for the last 3 miles escorted by the Patriot Guard of NC to the family/unit formation at the memorial gardens.

Alicia: Are there any significant stories you would like to share from your walk?

Doc: There were so many stories along the path I could share, but the two that reinforced my efforts while walking were when W George Thompson a survivor expressed an interest in walking with me a month before I started my journey and kept commenting that he would walk with me. A retired Charleston Police Officer and 3rd floor survivor of the Beirut bombing! His wife Karen dropped George off with me in Mount Pleasant and we walked for 4 miles putting his new knee to work. Honored and humbled on this day to have such a man and his wife walk with us.
One other example was when I met a young couple ( Emma and Tyler) in a campground and they had asked me "why had we not learned about this in school", I told them " I was wondering the same thing, why"? It was then that I realized that part of OUR goals need to include education and awareness.

Alicia: Are there plans for future events?
Doc: Yes, I was contacted by two Marines who wished to continue our efforts to educate, raise awareness and honor the Gold Star families. We are making plans to continue OUR walk from Jacksonville NC to Arlington cemetery, section 59 in DC October 2019. More information will be forthcoming.

Alicia: I took a photo of you at the memorial and you depicted what I think we were all feeling. Can you explain what you were thinking/feeling at that time?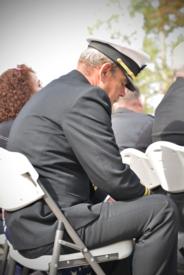 Doc: That photo was taken when I was remembering the sunrise services and families that had made their journey to the memorial for the first time. Two families, in particular, Brett Croft and Richard Barrett of Target Acquisition Battery both rode the USS Portland with me and both were brought to life by photos and stories from their shipmates and brothers. The term "brotherhood/families" has been demonstrated beyond DNA in this group.

Alicia: Do you come to the memorial in Jacksonville every year? Why do you feel it's important to be there?
Doc: This is my 4th time to the Memorial since 1995. The 30th and 35th were for the recognized 5-year memorial services. The significance for me attending this year was to help raise awareness for the Gold Star families and survivors. 35 years is a long time carry a burden of feeling like we did not do enough or have failed in other aspects of life as a result.
However, my wife Cheryl and I will continue our annual trek as long as we are able. Next year we will be providing support to Pete Sloper (red patcher) and walking with him while honoring Gold Star families.

Alicia: Any additional info you would like to share?

Doc: Follow us on my FB page Beirut Memorial Walk.