"THE FIRST BATTLE AGAINST TERRORISM"
FOUNDER MAJ ROBERT JORDAN (USMC RETIRED)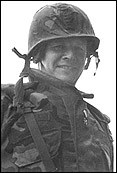 The BVA was established in 1992 by Beirut veterans who wanted a fraternal organization. They were dedicated to keeping the memories alive of those comrades who paid the supreme sacrifice in supporting America's quest for peace in Lebanon. They chose "The First Duty is to Remember" as their motto. Membership is open to all military members who served in Lebanon and with supporting units at sea, family members of veterans and next of kin. Please see our "join" page for further Membership options.
HISTORY
The History of Lebanon is one of years of violent tumult mixed with centuries of peace. An ancient county, its roots go back to the first sailors of the world. The United States Marine Corps made its first visit in 1861 and its last, very recently in 2006.
For more history on Lebanon, and the United States Military involvement there, click here. For 1958 USMC involvement in Lebanon click here.
Further Information please click the below listed articles by Randy Gaddo: