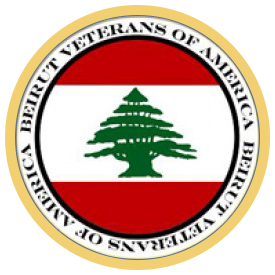 Dr. Morcos,
My name is Richard Truman and I am a retired U.S. Marine and Beirut Veteran. I am currently the Membership Chair for the Beirut Veterans of America. I want to apologize for the delayed response to your contacting our organization, but your article brought back memories that have been stored away in a compartment in my mind that as you can imagine, I try not to access. Even now, it's with great trepidation that I put "pen to paper," or in this case keystrokes to email.
I arrived in Beirut in May of 1983 as a young 20-year-old helicopter crewchief with Marine Medium Helicopter Squadron 162 (HMM-162). HMM-162 was the air combat element of the 24th Marine Amphibious Unit (MAU). I don't think that many of us really know what our role as peacekeepers in Beirut would entail, we only knew that we were there to help the Lebanese people. I remember flying around the city and as I flew by the Holiday Inn, pockmarked by bullet holes and other weapons, I kept thinking to myself that this must have been a beautiful city in the fifties and sixties. I didn't have much interaction with any of the locals except for the vendors in and around the airport and those that came to our small area of the airport called Rock Base. I always wondered what the Lebanese people thought of our presence in their city.
I read your article and was instantly touched. It's a story from the other side. It's from an individual that I was there to help, in trying to restore peace to his country and yet on that particular day, you helped us and for that, I am forever grateful. Your story somewhat mirrors mine, not in what we were at the time or by what we have since become, but I too helped an injured Marine. In the fall of 1982, to help occupy my time off, I became an EMT and was a volunteer with the Jacksonville (NC) Rescue Squad. By the time that the events of 23 Oct occurred, I had already faced the death of a young teenager in a single motor vehicle accident. Even with that, I had no idea of the magnitude of the dead and injured that I would see that day or the following day. On the morning of the bombing, instead of flying to transport the wounded to the ship, I was asked to help the ship's medical department (USS Iwo Jima) in triaging and treating the wounded as they arrived. To say that we were overwhelmed is an understatement. At one point, the chief surgeon grabbed me to help him with a seriously injured Marine. As the doctor assessed the Marine, I held his hand. He said to me "don't let me die." This Marine was in bad shape with a bad head wound, a tension pneumothorax and he needed a tracheotomy. As the doctor performed the tracheotomy, I had to insert a chest tube. I had no idea what I was doing, but the doctor walked me through the procedure as he was performing the tracheotomy. Finally, my Marine was stabilized and I moved on to the next patient. The rest of the day was a blur. Even though you were a 4th-year medical student and I was just an EMT, we did what we could, with the knowledge that we had at the time and we did our best.
In 2008 at the 25th-anniversary memorial services held annually in Jacksonville, NC, I saw a Marine at our memorial wall and I knew at once that this is the Marine that I helped treat that day. Up until that point in time, I had no idea if he had lived or not. We chatted for a few minutes and then parted ways.
With your permission, I would like to share your Journal article (with a slight redaction) in our Root Scoop II newsletter. Maybe the Marine that you helped that day, survived and will read your article. If you would like to attend the annual memorial services in Jacksonville, NC, we would love to have you. Typically, the memorial services coinciding every 5th year from 23 Oct 1983, draw the largest crowds. The next one will be in 2023, so you may have a better chance of finding your Marine.
Thank you for sharing your story with us.
Semper Fidelis.
Regards,
Richard Truman, Membership Chair, Beirut Veterans of America, Inc.