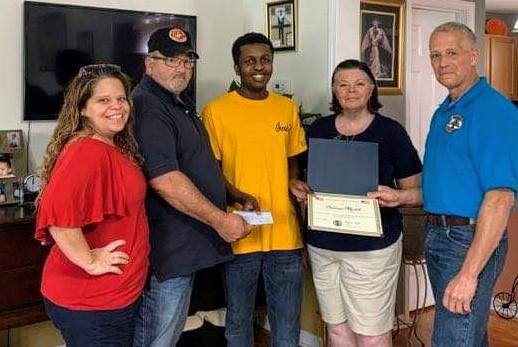 On Tuesday August 3rd, 2021 in Havelock, North Carolina several BVA members that included the BVA President Myron Kyle, BVA Board Members Stacey Pollard and Dave Seelye, along with the BVA Scholarship Committee Chair and Gold Star wife Margaret Pollard, met with Cameron Mitchell. Cameron is this year's recipient of the BVA Scholarship that was named in honor of Bill Yontz, a BVA Veteran and Board Member (See more details about Bill below).
Cameron has been accepted to ECU in Greenville NC. He will be pursuing a degree in Information Technology. The son of a retired Marine Gunnery Sergeant who passed away in 2018, Cameron demonstrated his research and understanding of the Beirut Peacekeeping mission in his scholarship application.
Below is Cameron's personal story he wrote as part of his application for the scholarship.
This essay was particularly personal to me as my Great Uncle served as a Green Beret in Lebanon during the attack in 1983. My mom told me stories of seeing photos of the military barracks after the attack and although she was a child it impacted her for her entire life. She could not understand how and why the world worked the way it did and why what she heard on the news was so different from what my uncle shared in his letters. She told me about pictures of him training Lebanese troops, how proud he was of his service, and fearless he was. Our men and women in the US Military are faced with death while protecting countries which are not their own or people who do not respect them, yet they proudly put their own lives on the line. Our Military deserves our respect regardless of the outcomes of the war, what society perceives about the historical events that follow, and regardless of whether we agree or disagree with the service they were called upon to do.
Cameron also wrote a thank your letter to the BVA:
Dear BVA and Members,
I am truly honored and grateful to be a recipient of the Bill Yontz Memorial Scholarship. Thank you for investing in my future. This scholarship will aid me greatly towards my college and career goals. On May 28th 2021, I graduated from Havelock High School in Havelock North Carolina. I will be entering the next chapter of my life at East Carolina University majoring in Information and Computer technology. Because of your generosity, this transition will be less stressful.
Throughout high school I have strived to do my best. There were a few distractions, but I persevered. My father passed away in September of 2018, a couple of days after hurricane Florence hit. In 2020 we battled COVID-19 and our lives changed. During these times, I still kept my focus on my education.
In high school I have been involved in the Marching Band (section leader my senior year), Jazz Band, Wind Ensemble and Symphonic Band. I really enjoy playing my trumpet and the baritone. I was involved in Operation Craven Cleanup, participated in our youth ministry at church, and volunteered as a bell ringer with the Salvation Army during Christmas. I practiced Martial Arts from 2009-2020. I hold the rank of Black Belt (Nidan). I also worked part time at Kentucky Fried Chicken.
I was selected into the National Beta Club, National Technical Honor Society (treasurer senior year), National Society of High School Scholars National, and Honor Society. I am on The All Academic Team for 2021. This honor is awarded to seniors who have maintained a 4.0 and above GPA throughout high school. My favorite classes that I took during my high school career were my band classes and my English classes. I enjoyed my band classes because they often challenged my music abilities by playing various types of music, never once leaving me bored. The English classes that I took were always so interactive when explaining deep concepts within the texts whether it be thematic elements of literary devices used in the story. It was also nice to just read the same book together so that we all got the same experience or reaction.
My career goals after graduation include starting out at a help desk and advancing to a leadership position as a Systems Engineer. I hope that one day I will be able to sponsor a scholarship so that I can reduce the expenses of college for a student or students. My anticipated graduation date is May of 2025. I will work hard and stay focused on my education. Thank you again BVA for helping me to achieve my goals.
Sincerely,
Cameron I. Mitchell
About Bill Yontz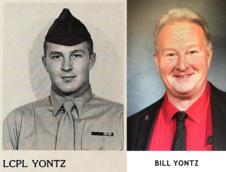 Bill joined the Marines in 1979. He went to Beirut, Lebanon, with the 24th MAU on October 30, 1982 serving with MSSG Truck Platoon. Before leaving Beirut on February 15, 1983, Bill earned a Letter of Appreciation, Meritorious Mast and was awarded The Naval Unit Citation. He was honorably discharged in 1983.
Bill converted to Life Membership in the Beirut Veterans of America in 2004, served on the Membership Committee, and has been one of our longest serving Board Member since. He will be missed dearly. Bill lived in Michigan with his wife of more than 36 years. Our hearts go out to Jen, his son Matthew, and all who knew and loved Bill.