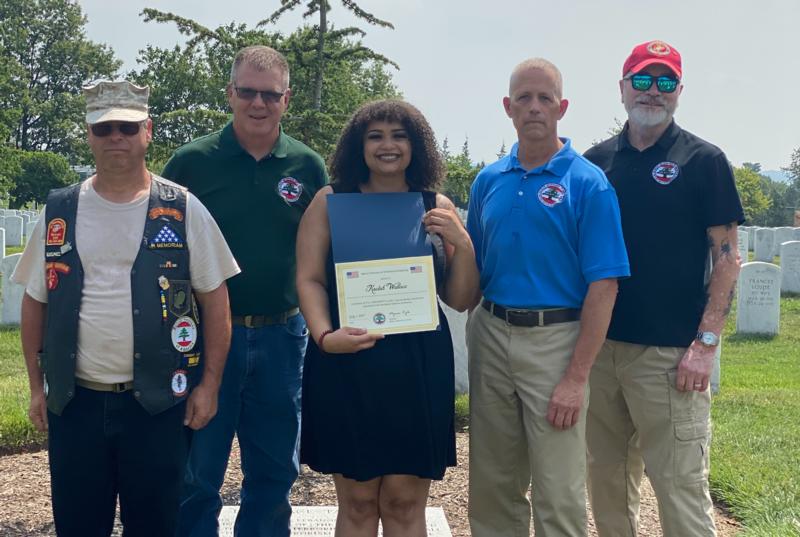 At 1100 hours on July 30, 2021 a small group representing the BVA met with this year's recipient of the BVA Scholarship Kaelah Wallace. This scholarship was made in honor of 1st Lt. John Boyett who died in Beirut on October 23, 1983 (See more details about 1st Lt. Boyett below).
This meeting to present the scholarship award was held at Arlington Cemetery among the graves of those who have fought and died for our country. The significance of this location was that it was at the headstone of Kaelah's great-grandmother, Sally Ann Johnson. Sally and her husband Army CWO James Johnson served in Beirut together and were both injured in the April 18, 1983 American Embassy Bombing there. Sally worked for the Defense Intelligence Agency.
Kaelah along with her parents and great-grandfather, Army CWO James Johnson, met with members of the BVA including our President, Myon Kyle who presented the scholarship certificate and $1,000 check. Also attending were Kevin Ayres the BVA Vice President, Richard Truman a BVA Board Member and Membership Chairman, and George Hale who lives in Pasadena Maryland and was with 1/8.

Below is Kaelah's personal story she wrote as part of her application for the scholarship.
I am a first generation college student. I am currently attending college full-time, working full-time and paying for school all on my own. I do not receive financial aid. I have been heavily involved with volunteering for the homeless since the age of 12. I feel as though it is extremely important to share your time and resources with those who are in need. You never know when you may be on the other side.
I am connected to the BVA through my wonderful great-grandfather. He and my late great-grandmother were working at the US Embassy in Beirut on April 18,1983 when the bombing occurred. They were severely injured thus receiving Purple Hearts.
All that to say that I truly admire all those who were victimized by this terrifying event. I am extremely grateful to partake in this scholarship opportunity. Even if I do not receive the scholarship, it was very insightful and important to me to write about the Bombing of Beirut.
About 1st LT John Boyett, USMC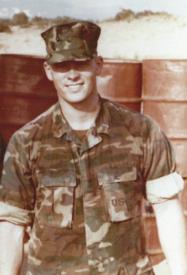 1st LT John Boyett began his active duty career in the Marine Corps upon graduating from South Dakota State University in 1980. After attending The Basic School in 1981 in Quantico, he was stationed in Camp Lejeune, NC, and promoted to 1st LT after graduating from Supply School in 1982. In May 1983, he was deployed as a member of the 24th MAU and served as Ground Supply Officer for H&S Co, BLT 1-8. On October 23, 1983, 1st LT Boyett was among the 241 Marines killed in the bombing of the BLT headquarters. His decorations include the Purple Heart, the Navy Commendation Medal, the Marine Corps Expeditionary Medal, and the Sea Service Deployment Ribbon. He was often referred to as a "Marine's Marine" and is remembered by many as a man of high integrity and high character who led by example.