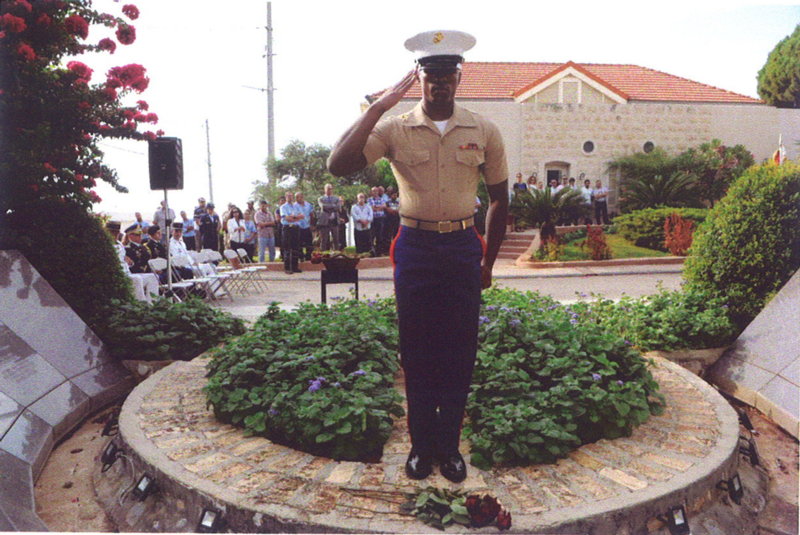 Dear Beirut Veterans of America:
My sincere thank you for all the work you have done for the victims, families, veterans, and
survivors of all of the tragic events that have occurred in our pursuit for peace and stability in Beirut and all of Lebanon.
The U.S. Embassy Beirut has not forgotten the sacrifice of the 241 Marines and service members who lost their lives on October 23, 1983. We also do not forget their families, the survivors, or the many other loved ones left behind who have been affected by the tragedy that occurred on October 23, 1983.
On October 21, 2016, the Embassy family in Beirut, Lebanon, in conjunction with the Marine Security Guard Detachment Beirut and I, had the honor and privilege to conduct a remembrance of the 33rd anniversary of the attacks in Beirut to honor of the victims of the attack on the Marine barracks. The ceremony was performed at the Beirut Memorial Wall located here at the Embassy.
The ceremony began with a large gathering of Embassy employees and speeches by me and the Marine Security Guard Detachment Commander. Shortly after, each of the Marines in the Detachment read the names of the servicemen killed in Beirut, laying a rose at the Memorial for every twenty names. That was followed by recognizing the French Defense Attache to Lebanon, who laid a flower in remembrance of the 58 French Paratroopers who perished in the attack on the Drakkar building the same day. We then stood for the playing of taps and a moment of silence. The ceremony was somber and respectful and provided all members of the Embassy community the chance to reflect not only on the tragedy, but on the important legacy those who gave their lives left behind.
We are very proud of our Marine Detachment here and since their return to Lebanon in September of 2014 they have been true professionals who have integrated into our Embassy family. In true Marine fashion, they have also taken the torch passed to them from "those who came in peace" and championed their remembrance. They have regenerated the storied history and high standards of the United States Marine Corps in Beirut, Lebanon.
As the U.S. Ambassador to Lebanon, it is my honor to present to you the American Flag flown
over the Embassy on 23 October 2016. The Embassy family keeps you all in our hearts and in our
prayers. We will never forget.
Sincerly,
Elizabeth H. Richard