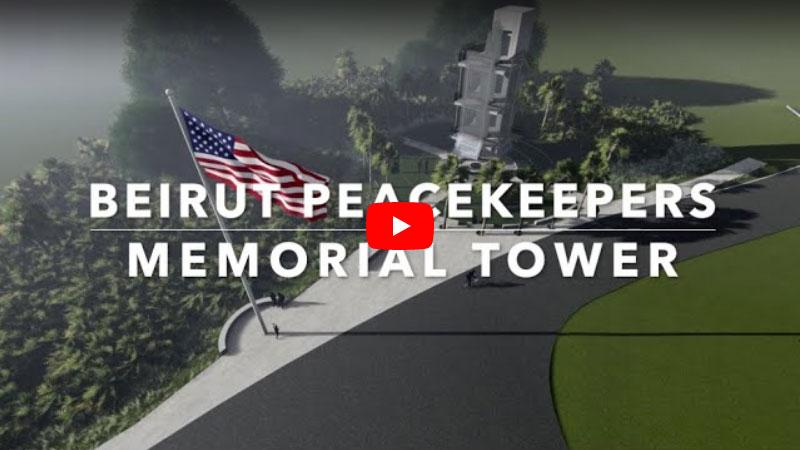 The Beirut Veterans of America (BVA) is dedicated to keeping the memories alive of those comrades who served in and around Beirut, Lebanon, and especially those who gave their lives as the ultimate price paid for freedom. This includes those who served in Beirut in the 1950's, 1970's and the conflict in the 1980's.
The BVA Motto is: "Our First Duty is to Remember." But how do we remember? How do we reach future generations? We only remember history when we experience it or learn it. It becomes permanent when we can touch and feel something. When we can visually see, it becomes alive. A living history evokes lasting memories.
The BVA is proud to announce its support to build an historical educational legacy that will not only fulfill the BVA mission and purpose, but honor and recognize all those who gave the ultimate sacrifice, and those who served, supported and advanced the mission.
The Beirut Peacekeepers Memorial Tower is a shovel-ready project that has been fully designed and permitted to be built on a 40-acre park in Charlotte County, Florida. The park was dedicated in 2019 and is named after one of our fallen brothers. It is a testament to the community support many towns across the country provided to our next of kin (NOK) 37 years ago. This park is adjacent to Charlotte Harbor and includes a military-themed playground (fully accessible to children with disabilities), athletic courts, walking trails, and a kayak launch. The Tower will be placed in the center of the park, with a courtyard entry facing Beirut, Lebanon. It will provide a view of the park and Harbor from the top level. Visitors to this park will learn about the history of Beirut Veterans, as well as enjoy the freedom it represents.
All aspects of the Tower have been designed to include elements of the Beirut mission, events, and structures. Please be inspired to learn more about the Tower, and how you can personally be a part of history once again. Let us remember and, most importantly, educate our children … and their children's children. Help us to reserve, and preserve, our rightful place in history.
Please join us at www.beirutpeacekeepers.org today. Only we can preserve our history. The time has come.
Semper Fortis Vigilate Paratus et Fidelis