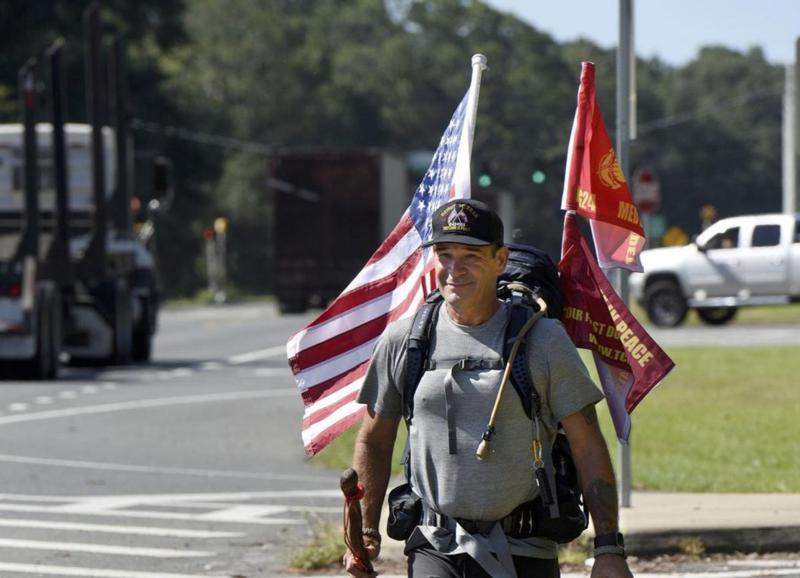 UPDATE: Starting from the Holiday Inn on Monday Oct. 22 at 8 am Doc Brown will begin walking to The Gardens in time for the Unit Formation. Any are welcome to join him for this 3.2 mile walk.
Ed "Doc" Brown, 57, aims to complete an over 500 mile trek by Oct. 22, arriving in time for the October 23 ceremony commemorating the 35th anniversary of the Beirut bombing. To make it, Ed plans to walk an average of 24.1 mile per day, symbolic of the 241 servicemen who died in that attack. His 30-pound backpack is flanked by an American flag and a Beirut Memorial flag and contains the tent he will pitch and stops along the way.
Brown began the journey in Jacksonnville, Fla. The walk also is raising money for the Beirut Veterans Scholarship Fund through his Facebook page.
https://www.facebook.com/donate/492695337809076
"I am doing this in honor of the 241 families who lost their sons, brothers and fathers," said Brown, a retired Navy veteran now living in Milton, Fla., near Pensacola. "All these national events, Veterans Day, Memorial Day, they never recognize Beirut. The purpose of this journey is to recognize the families."