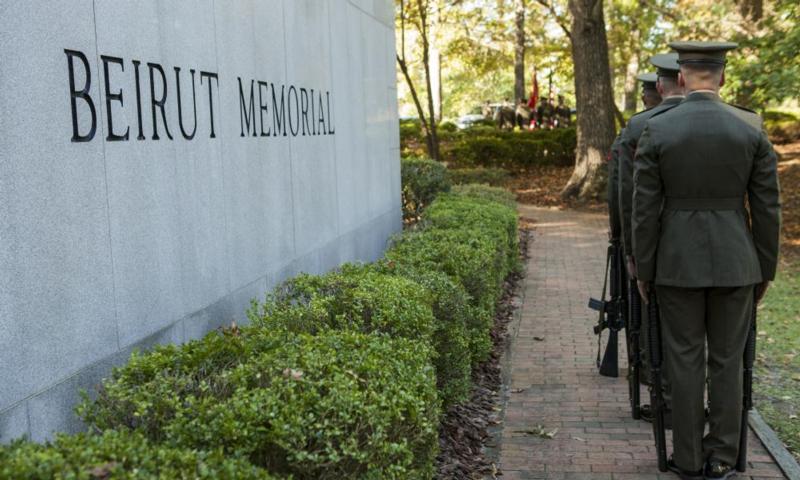 The Marine Corps Installations East and City of Jacksonville have again decided to hold this year's annual Beirut Memorial Remembrance virtually. The Memorial will be closed to the public for the 1030 Observance. This follows the cancellation of Oktoberfest and Patriots' Day events in Jacksonville. Those decisions were made due to the increasing spread of COVID-19 cases in the Community. With structural issues closing the USO, we contracted with another venue. However, that building is City owned, and restrictions are now in place, as they are in all government buildings.
Based on the above and the restrictions required, the 2021 Annual Meeting of the Beirut Veterans of America, Inc., is canceled. This decision is made now rather than waiting to see what happens down the road in order to allow everyone time to change or make plans.
Please keep in your thoughts and prayers those lost to COVID-19, those that were hospitalized for extended periods, and those who are presently hospitalized. To the Families of those who lost loved ones, our hearts go out to you, and you have our deepest condolences. To those who were or are sick, we wish you the speediest and fullest recoveries.
We must also recognize the Ultimate Sacrifice made by our eleven Marines, Corpsman and Soldier who recently died in Afghanistan: Please keep their loved ones in your thoughts and prayers also. We would also like to thank our Members who personally helped welcome home our Warriors from Afghanistan, and those who helped financially - Thank You!
The First Duty is to Remember, and you will never be forgotten.
This is what we know:
The Annual 0600 Vigil will go forward per SOP as a private Memorial. Next of Kin, Beirut Veterans and Family Members are invited to participate. BVA will have appropriate candles with wax guards – please make every effort to keep wax off the deck! The Base has advised that by approximately 0700 they will commence preparations for the virtual event, and respectfully ask that once proper respects have been made, the workers be allowed to perform their duties.
The 1030 Memorial will be entirely virtual. The area will be roped off and there will be no bleachers or seating. Speakers have been invited and may pre-record comments. The Service will be attended by invited participants only, such as the Color Guard, Chaplain and those that will lay the Wreaths. There will be media present to live-stream and it can be viewed on the Jacksonville-Onslow Government TV Channel (G10TV), at www.G10TV.org, on social media and on www.dvidshub.net. Other venues may be announced later.
As of this announcement, we received word that The Devil Dog Ceremony scheduled for 1400 at Camp Geiger IS scheduled to go forward.
Strength & Honor MC will hold the 6th Annual Beirut Memorial Ride on Sunday, October 24th with registration beginning at 0930, New River Harley-Davidson, 2394 Wilmington Hwy (Rt. 17).
The USO Memorial Walk will be virtual, details to follow.
The American Brother Foundation IS going forward with its plans for "Burger Night" at the Headquarters Hotel (HQ), Mainstay Suites, 2201 N. Marine Blvd, Jacksonville, NC 28546.