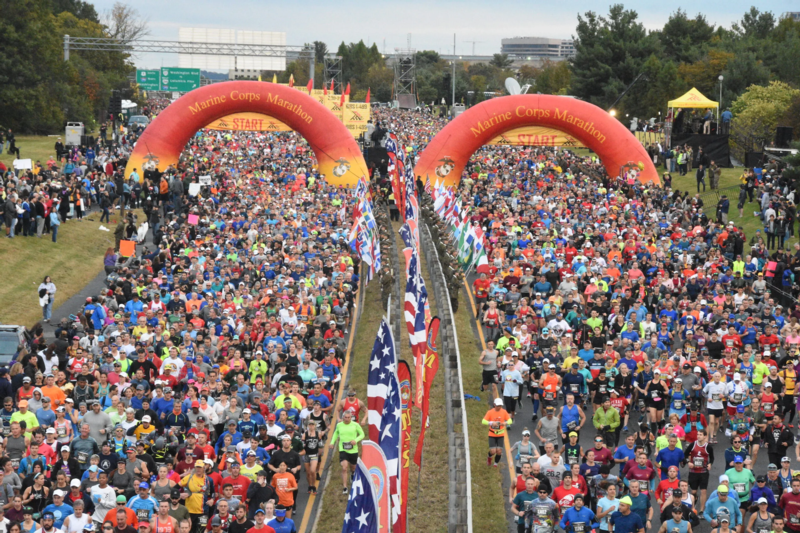 Randy Gaddo
Mike Chard, a special forces soldier who served in Beirut from June 1983 to April 1984, will carry the BVA banner in the 2023 Marine Corps Marathon, as he has done every five years since 2008.
This will be the fourth time he ran officially sanctioned and supported by the BVA. His efforts over the years undoubtedly led to this year's marathon theme recognizing the 40th Remembrance of the Beirut Bombing and others killed and wounded during the 1982-84 operation.
"I had run the Marine Corps Marathon in 2003 with the intention of commemorating the fallen," he says. "My planning was poor, and nothing really came of it other than running the race thinking of what had happened 20 years before."
In 2008, he contacted BVA officers early to obtain administrative and logistical support and to officially sponsor his efforts. The Marathon staff supported his efforts, and he remembers the emotional start of that race.
"At 7:35 the announcer recognized our (BVA) presence in the race," he recalls. "He told of what happened in Beirut during 1982 to 1984 and the human price that was paid. The announcer then called for the moment of silence. As I stood, head bowed, holding the BVA flag and list of names, I could only think of the events 25 years past that had brought us to this place."
After that, he started adding team members to help carry the load of an additional U.S. flag and a BVA flag with the names of the 270 killed in the two-year period. In 2013 his daughter, Elisa, a newly-commissioned Navy ensign nurse, joined him, as well as two of her classmates, Marine second lieutenants.
This year he has added more members, for a total of six runners, including: Elisa and her husband (a Navy veteran), his youngest daughter Kate, who ran with him in 2018, and his youngest son, Nick, a Midshipman working to be a Navy pilot. Also joining his team is a veteran Marine who ran with him ten years ago. The team plans to carry the BVA Banner and four flags: the BVA flag with KIA names and one flag each for Marines, Navy and Army. "Having six team members will enable us to rotate carrying the flags and give one person at a time a little break," he says.
As of this writing final plans for recognition of the 40th Remembrance had not been announced by the Marathon office. Updates will be posted here when they become available, or see www.marinemarathon.com.