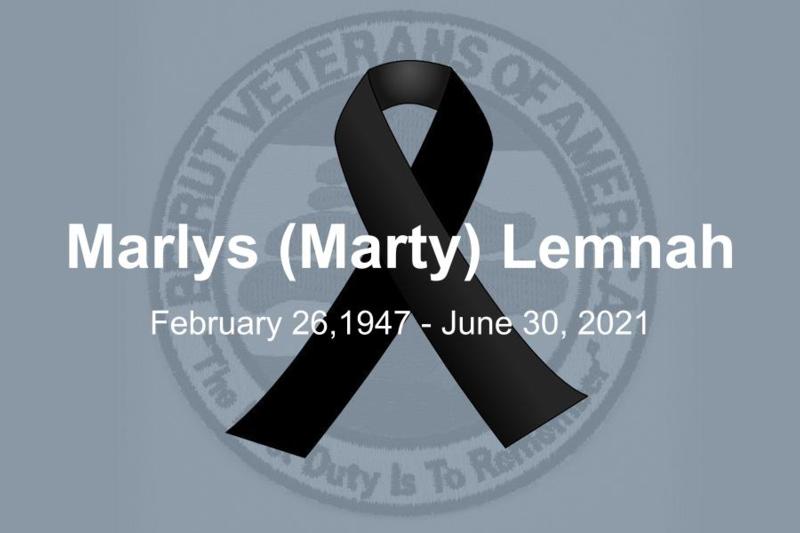 Marlys "Marty" was born February 26, 1947 in Flint, Michigan. At age 4 1/2 her family moved to Minneapolis, Minnesota. Her father was from the Chippewa tribe. She graduated from the VoTech High School in Minneapolis, pre-nursing, graduating in 1965. She met a Navy recruiter who came to school to speak and decided to join the US Navy.
She was stationed at the Naval Air Station in Brunswick, Maine, and became a Licensed Pratical Nurse by challenging the state boards. She received her degree in Nursing in 1978 (Associates), a BS in Nursing, and became a Registered Nurse in 1981.
She married Richard Lee Lemnah, US Marine, in 1968. They met at Naval Airstation in Brunswick. On October 23, 1983, Master Sergeant Lemnah was killed in the Beirut bombing attack. He returned home to St. Albans, VT, for burial. In 1984, Marty moved to St. Albans, VT, to live where she died on June 30, 2021.
Marty was an active member of the BVA and beloved by all who knew her.
Her obitiuary can be read at: https://www.legacy.com/us/obituaries/burlingtonfreepress/name/marlys-lemnah-obituary?pid=199422961