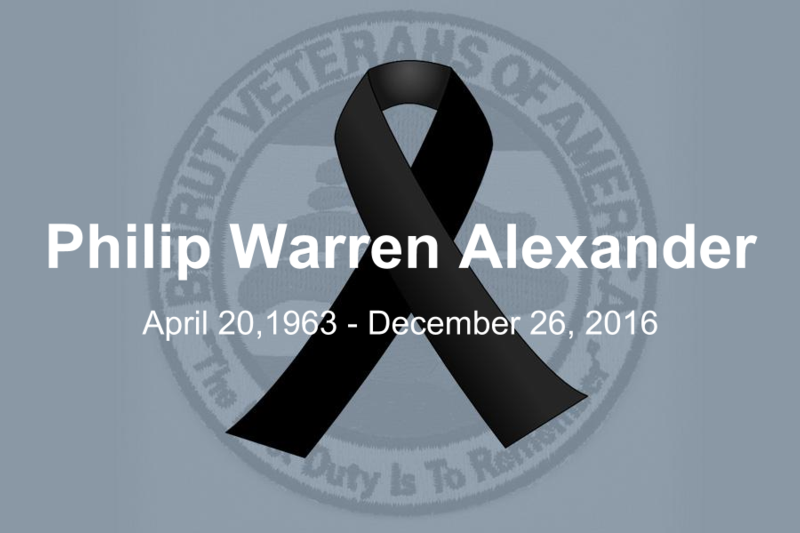 Philip Warren Alexander, 53 of Phoenix City, Alabama passed away Monday, December 26, 2016. Funeral services with military honors will be held 2:00 P.M. EST Friday in Lakewood Hall at Striffler-Hamby, Phoenix City, AL Burial will follow in Lakeview Memory Gardens. The family will receive friends Thursday evening from 6:00 P.M. until 8:00 P.M. at the funeral home.
Mr. Alexander was born April 20, 1963 in Fort Benning, Georgia; son of the late Fred Alexander and Lucille Johnson Nicholson of Phoenix City, AL. He is a Marine Corp veteran who served in Beirut. He is currently serving in the Army National Guard where he served in Iraq and Afghanistan and is a member of the V.F.W.. He is employed with Heat Craft Corp in Columbus, GA.
Other than his mother, Lucille Nicholson, he is survived by his wife, Lisa Alexander of Phoenix City, AL, daughter; Amy Grindle (Jeremy) of Alabaster, AL, son; Joshua Alexander (Macy), daughters; Jessica Phillips and Juliann Faulkner both of Phoenix City, AL; brother, Rick Alexander (Susan) of Chapin, SC, grandchildren, Nathan Grindle, Taylor Grindle, Saphirra Alexander, Logan Alexander, Shea Grindle, Castiel Alexander, niece, Lauren Alexander and nephew, Ryan Alexander.