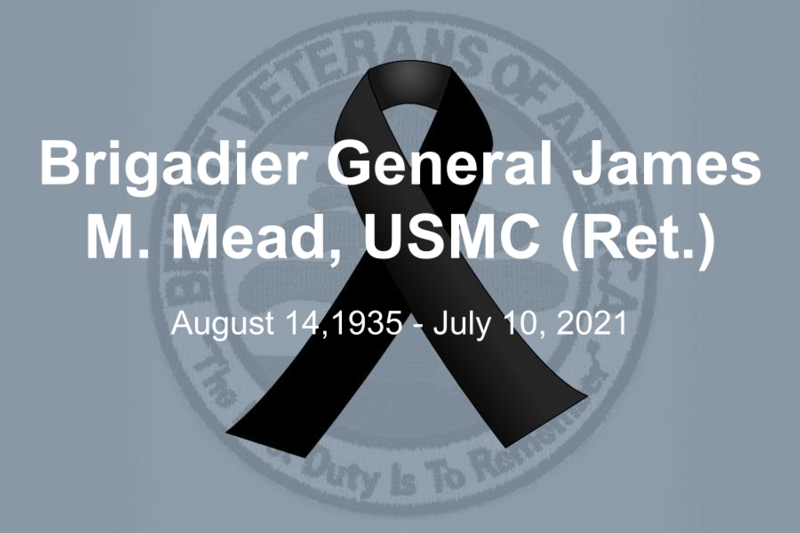 Wareham-Brigadier General James M. Mead, USMC (Ret.), 85 of Hamilton Beach, Wareham passed away peacefully at Tobey Hospital on Saturday, July 10, 2021. He was the husband of Marylou (Moran) Mead also of Hamilton Beach.
James was born in Boston, the son of the late Phillip G. and Lillian (Spencer) Mead of Somerville MA. He graduated from Malden Catholic High School and attended Belmont Abbey College in Belmont NC, on a basketball scholarship. He earned a BS in English from the Abbey in 1957. Additionally, he was awarded a master's degree in Business Administration from the University of North Carolina-Charlotte. All three academic institutions he attended recognized him as a distinguished graduate.
During College, Brigadier General Mead completed USMC Platoon Leaders Class, and was commissioned a 2nd Lieutenant upon graduation. He served his nation with valor and distinction for thirty-one years. A born leader, his military achievements were legion. Designated a Naval Aviator in 1958, he had a lifetime love of aviation, and flew more than 6000 hours in over 30 different aircraft type model series to include the F-9F Cougar, F-4D Skyray, A-4 Skyhawk, F-8 Crusader, and his beloved F-4 Phantom. The General commanded two F-4 Phantom squadrons (VMFA-251 and VMFA-232) and Marine Aircraft Group 31. Serving two tours in combat during the Vietnam War, he flew 390 combat missions. In 1982-1983, then Colonel Mead, served as the Commanding Officer of the 32nd Marine Amphibious Unit and subsequently the 22nd Marine Amphibious Unit. During his command both units comprised the United States contingent of the Multi-National Peacekeeping Force in Beirut Lebanon. After his promotion to Brigadier General, James served at Headquarters Marine Corps in Washington DC, then as the Commander of Marine Corps Air Bases East which was his final assignment in the USMC before his retirement in 1988. His decorations included, the Silver Star, Bronze Star with Combat V, Combat Action Ribbon, Distinguished Flying Cross, Legion of Merit (3 Awards), Meritorious Service Medal, Navy Commendation Medal, and many others.
Brigadier General Mead is survived by his children: Matthew Mead and his wife Danielle of SC, Michael Mead and his wife Stephanie of NC, Mitzi Mead-Smith and her husband Tory Smith of VA. and his stepson Kevin Grant and his wife Ashley Grant of Marion, MA. He was the brother of Ann Lane of MA, Grandfather of Dr. Kara Regan-Lawrence, Jake Mead, J.J. Regan, Spencer Mead, Michael Mead, 2nd Lt Max Mead USA, Patrick Mead and Samantha Mead and he is also survived by 10 great grandchildren and many loving nieces' nephews' relatives and friends. He was predeceased by his first wife of 49 years Patricia C. (Covington) Mead of Belmont NC, his daughter Melanie Regan, and his sister Phyllis Piscopo.
Visiting hours will be held from 4:00 to 6:00 pm on Thursday July 15, in the Wareham Village Funeral Home 5 Center Street Wareham. Relatives and friends are cordially invited to attend. His funeral Mass will be held at 11:00 am on Friday July 16, in Saint Patrick's Roman Catholic Church, 94 High Street Wareham, Military Honors will follow, please arrive at church by 10:45. Burial will be held at a date to be determined in Mount Pleasant Cemetery, Arlington, MA.
Memorial donations may be sent to the Marine Corps Scholarship Foundation, 909 N. Washington Street, Suite 400, Arlington VA 22314, www.mcsf.org