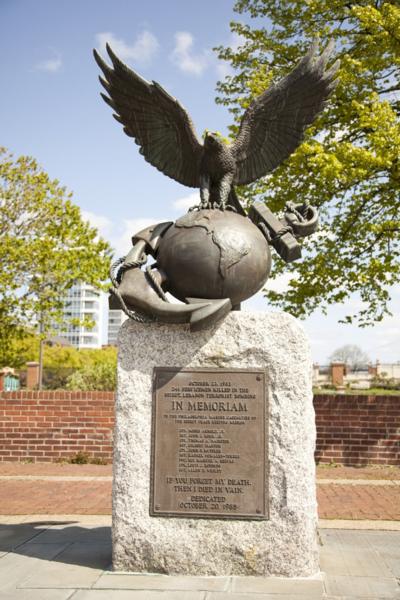 Originally located at Penn's Landing, the Philadelphia Beirut Memorial was dedicated in 1985 in honor of the Philadelphia Marine casualties of the Beirut Peace-Keeping Mission of 1983. It was designed by Douglas Corsini, and its inscription reads, "If you forget my death then I died in vain." Today the memorial sits at Front and Spruce Streets.
Memorial to:
Cpl. Moses Arnold, Jr.
Sgt. John J. Bonk, Jr.
Cpl. Thomas A. Hairston
Sgt. Gilbert Hanton
Cpl. John F. Muffler
Sgt. Rafael Pomales-Torres
Pfc. Rui Manuel A. Relvas
Cpl. Louis J. Rotondo
Sgt. Allen D. Wesley
Was at Penn's Landing on the North side of the Seaport Museum. Moved prior to 2010. Walkway North and East of Front and Spruce.