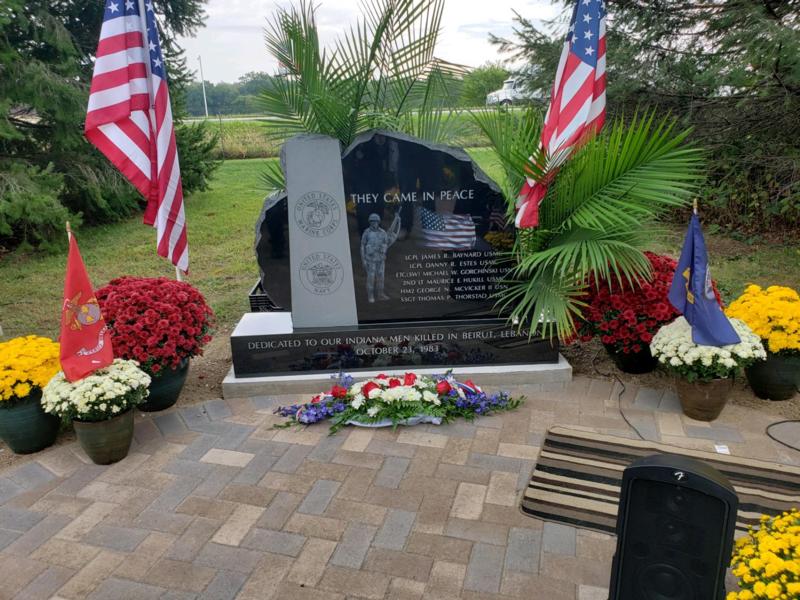 Located at: Highway 49 and Porter Avenue Chesterton, Indiana
INDIANA SERVICEMEN
LCPL James R. Baynard USMC 8/6/1960 - 10/23/1983 (23 years old)
James was born in Louisville, Kentucky, but he moved to Greencastle, Indiana, with his family at a young age. He graduated from high school in Richmond, Virginia, where he met his bride Thomasine Brown and became a United States Marine. He accepted Christ as his Savior in April 1981, and his personal testimony could best be expressed through Psalm 27, according to his family. James had nine brothers and five sisters. Thomasine gave birth to their son, Stephen James Baynard, on September 8, 1983. Because of the bombing, James never met his son. Stephen has three sons: Malachi, 10; Ethan, 6; and James, 4. They live in Richmond, Virginia, with Thomasine.
LCPL Danny R. Estes USMC 9/27/1964 - 10/23/1983 (19 years old)
Danny was born and raised in Gary, Indiana, by Barbara and Charles Estes. He had two older sisters, Tammy and Terri, and a younger brother, Frankie. His extended family included two grandmas, aunts, uncles, cousins and his fiancée. He liked dirt bikes, cars, snowmobiles and go-karts - the faster, the better, according to his family. He worked with engines and motors, and his favorite pastime was baseball. He played ball through Senior League at the Black Oak Little League Field, which is now dedicated in his memory. He loved to laugh and have fun, his family said. His smile was contagious, and even when he made people mad, he could always make them smile and forget why they were mad at him in the first place. Danny joined the Marines after high school graduation in 1982. He completed basic training at Camp Pendleton in San Diego, California, and turned 18 during his time there. He was then stationed at Camp Lejeune in Jacksonville, North Carolina, before being deployed to Beirut in 1983. He celebrated his 19th birthday there.
ETC(SW) Michael W. Gorchinski USN 9/27/1948 - 10/23/1983 (35 years old)
Michael was born in Evansville, Indiana, and he enlisted in the Navy after high school in 1967. His life defined passion, according to his family, and his intelligence was only exceeded by his mischievous smile and charm. As a sailor, his passion and expertise earned him a place of leadership and respect with his peers and superiors, and many still cite him as a mentor and role model. He gave the younger sailors something to aspire to and to be inspired by, his family said. He was dedicated to both his family and his Naval career. He loved hunting, boating, water skiing and fishing, and he was a national award-winning competitive shooter. In his last competition in 1983, he won the Navy's Pacific Fleet matches in San Diego just before the USS New Jersey deployed. He was survived by his wife, Judy; his three children, Christina, Kevin and Valerie; his mother, Patty; and his sister, Penny.
2nd Lt. Maurice E. Hukill USMC 11/26/1957 - 10/23/1983 (25 years old)
Maurice (Maury) was born in South Bend, Indiana, to Virginia (Ginnie) and Henry (Hank) Hukill. He went to high school in Virginia and attended Virginia Tech to pursue a degree in Forestry and Wildlife Management. Upon graduation, jobs in this field were hard to f ind. At a friend's suggestion, Maury attended Officer Candidate School in Quantico, Virginia. After graduating, Maury married his college sweetheart, Mary, and moved with her and his golden retriever, Gandy, to his assignment at Camp Lejeune in Jacksonville, North Carolina. In summer 1983, Maury and Mary visited his parents and siblings in Pennsylvania, the last time they saw him alive. In letters to family from Beirut, Maury often said he believed in their mission of aid to the Lebanese people. He was proud to be a Marine and serve his country, according to his family. Maury had just returned from leave in Turkey prior to the bombing. Maury was survived by his wife, parents and six siblings: Mark, Matthew (Debbie), Meredith (Ken), Monte, Mitchell and Melissa.
HM2 George N. McVicker II USN 2/6/1948 - 10/23/1983 (35 years old)
George was born in Wabash, Indiana. He was the only child of Marilyn Lockwood Wiley and George N. McVicker I. He first entered the service in the Air Force in 1967 and served in Vietnam, and he re-enlisted in the Navy in 1975. He served in the Naval Regional Medical Center in Okinawa from 1970 to 1980 and in the 2nd Marine Division Camp Lejeune in North Carolina, where he worked in the Division's Surgeon's Office. George served as a Hospital Corpsman in Beirut. He had been married and divorced with one son, Mark. His parents, exwife and son have since died, and he has no known surviving relatives.
SSGT Thomas P. Thorstad USMC 7/18/1956 - 10/23/1983 (27 years old)
Thomas (Tom) was born in Chicago, Illinois, to James and Barbara Thorstad, but his family moved to Chesterton, Indiana, in 1967. He had seven siblings: Susan, Janice, James Jr., Kathryn, Barbara, Patricia and John. Tom loved corny jokes and trivia. He made friends through high school wrestling, camping, fishing and playing football and baseball with his neighborhood friends. They called themselves the Weasels, according to Tom's family. As a young man, Tom wanted to become an Indiana State Trooper or a Chicago policeman. A school counselor advised him to join the Marine Corps while he waited to meet the police academy age requirements, so after graduating high school in 1974, Tom enlisted. His first duty station was the Marine Corps Depot in Barstow, California. Later, he entered Marine Security Guard for Embassy Duty in Luxembourg, where he met his wife Kathleen. From there, Tom decided to make the Marine Corps his career and focused on Counterintelligence. Tom was survived by his wife; his two sons, Adam and Ryan; his parents; his siblings and many extended family members.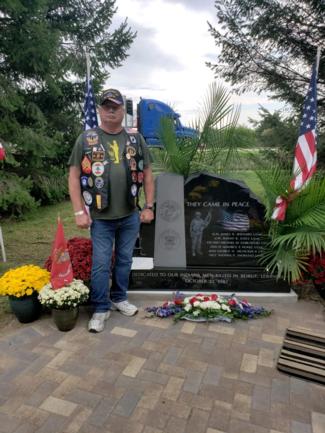 Photos provided by: Rick Coburn