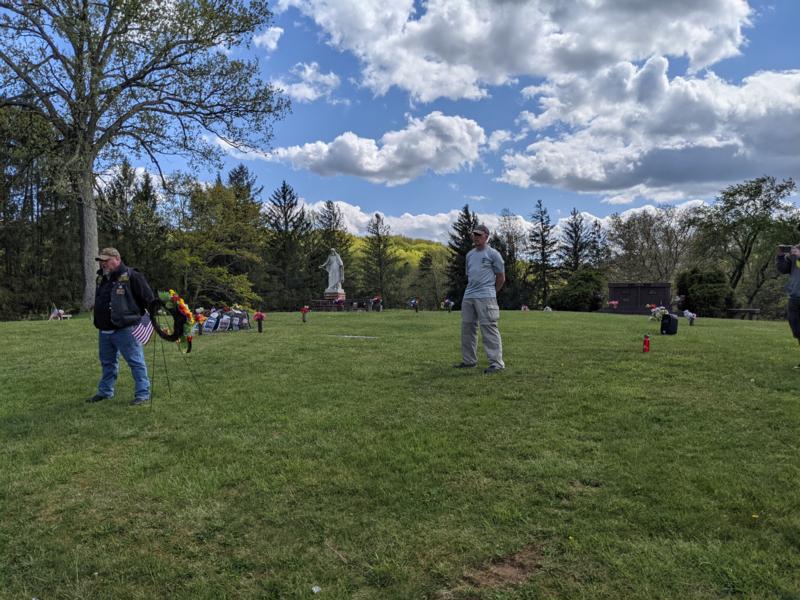 On a brisk West Virginia weekend from May 7-8, a group of BVA Veterans, NOK, and friends got together to honor one of our own, Sgt. Mecot Camara.
The events included a 13.1 mile road march for the 2021 Moutain Man Memorial March on Friday May 7th. Several BVA Veterans, NOK, and friends hiked the path that started at Sandstone Falls and traveled through the quaint town of Hinton, WV and ended at the top of the beautiful Restwood Cemetary where Sgt. Camara is burried. Despite brisk rainfalls, traffic, and hills, the group banded together to honor those made the ultimate sacrifice for our Nation. See more at https://www.facebook.com/TheMountainManMemorialMarch/posts/4351251668228090.
At 1600 on May 7, the CVMA 37-2 Motorcycle Association arrived to place a wreath at the gravesite of Sgt. Camera. After the wreath laying, the group got together to watch the official premier of the "We Came in Peace" doucmentary's trailer at the historic Ritz Theater.
On Saturday May 8, the CVMA 37-2 Motorcycle Association held their 3rd Annual Sgt. Mecot Camara Memorial Ride. At the end of the ride those in the community of Hinton joined the riders downtown for music and food in the town square.
It was great to be able to connect with fellow BVA Veterans and familes!