One of our BVA Board Members and Membership Officer Richard Truman attended the Virginia War Memorial Grand Opening of the Shire of Memory - Global War on Terrorism on 29 Feb and was moved by the experience. There is a pane of glass etched with the names of our Virginia Brothers lost in Beirut (see below).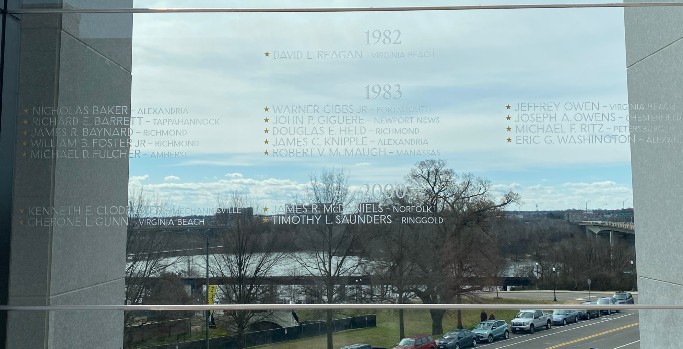 They had members of the Chickahominy Nation that performed the "Flag Song" and performed a Tribal Blessing. When the Chief was blessing the Memorial building, Richard noticed 3 hawks hovering directly above the building. They pretty much stayed during Blessing and started flying aways towards the end of the Tribe playing. It appeared as if our Brothers watching over the ceremony with approval.
Richard met the Gold Star Sister of Joseph A. Owens of Chesterfield, Virginia. She was thankful that we and another HMM-162 Veteran made it to the ceremony.
There was a poem that was read, it was written by Lt. L. A. Armstrong of Wisconsin and is titled "The Answer", written in response to "In Flanders Fields."
In Flanders Field the cannon boom
And fitful flashes light the gloom;
While up above, like Eagles, fly
The fierce destroyers of the sky;
With stains the earth wherein you lie
Is redder than the poppy bloom
In Flanders Field.
Sleep on ye brave! The shrieking shell,
The quaking trench, the startling yell,
The fury of the battle hell
Shall wake you not; for all is well.
Sleep peacefully, for all is well.
Your flaming torch aloft we bear,
With burning heart an oath we swear
To keep the faith to fight it through
To crush the foe, or sleep with you
In Flanders Field